Chris O'Dell

Photograph Archive

Lenticular Clouds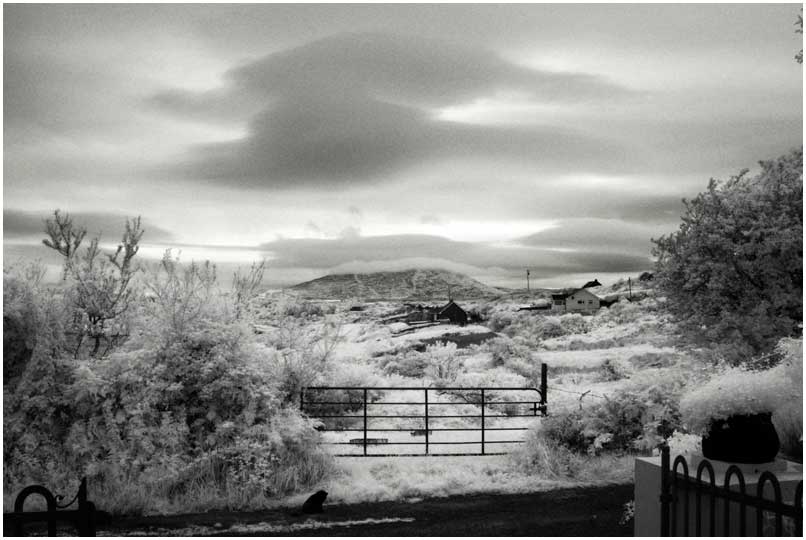 Lenticular clouds forming over Mount Gabriel.
Mount Gabriel,

Cnoc Osta

in Irish, on the Mizen Peninsular in West Cork, only just makes it as a mountain, being a mere 407 meters high, but it has quite an effect on our weather patterns, and particulaly on local cloudscapes.
Lenticular clouds are quite unusual in the great wide world, but relatively common here, thatks to the mountain. This photograph is looking directly to the west, and this is the direction from which cool wet winds arrive on our shores from the great Atlantic. The wind is disturbed by the warm mountain, and these fine low clouds are formed. This was taken on July 27th this year, so it was not snowy, but looks wintery because I took this picture on my Canon G9 that has been modified for Infra-red. The green foliage reflects a great deal of infra-red light, so it comes out as white on the photograph. My cat Treacle can be seen just this side of the gate. She has just been for a walk with me up the lane.
Join The Cloud Appreciation Society here.
Camera Canon G9, modified for infra-red.

Exhibition prints of this and all other photographs on this site are available size A2 on Permajet Distinction Fine Art paper 325gsm price €100 including packing and posrtage to all parts of the world.
Send email here with title of image and I will invoice you via PayPal (you do not need a PayPal account, you can pay with major credit/debit cards).
See home page for all other reproduction details
Return to home page